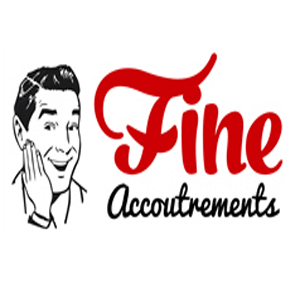 Fine Accoutrements Classic Aftershave American Blend 100ml
Out-of-Stock
Tax included
Fine Accoutrements Classic Aftershave American Blend 100ml.
It's the flagship fragrance of the brand as it captures the traditional scent of a barbershop. Fine Accoutrements after shave are made with just 4 ingredients; alcohol, water, fragrance and menthol. This ensures an ultra-light face feel and a refreshingly cool and skin toning dry-down.
The scent consist of a Fern base accented by geranium, lavender. Oak moss, patchouli and a hint of Gaiac wood. It was inspired by YSL Rive Gauche Pour Homme. The aroma smells of earth, woods and growth. A masculine scent.
It does not contain artificial colours, preservatives, emulsifiers, petroleum or silicones.
Format – 100ml Glass Bottle.
Ingredients: alcohol, water, fragrance and menthol.
Made in the USA.
Fine Accoutrements Classic Aftershave American Blend 100ml.
The American Blend flagship fragrance captures the essence of a traditional shaving. Inspired by Rive Gauche Pour Homme (2003) by Yves Saint Laurent, the scent recalls the breeze of pleasant summer nights with amber-colored amber notes, wrapped in leather scents on wooden bases, leaving an incredible feeling of well-being.
The aftershave Mr. Fine they have always been favorites from the wetshavers of half the world, this because they are representative products of a elegant return to the past but with a touch of innovation to make them always fresh and up-to-date. Ultra-Premium fragrances infused in a light and timeless base that guarantee a extraordinary shaving post.
Mr.Fine's Ultra-Premium perfumes were inspired by the most loved male fragrances of all time: Rive Gauche Pour Homme, Yves Saint Laurent, Guerlain Vetiver (1961), Terre d'Hermes (2006) and many more. The four-ingredient ultra-luxe formula contains no artificial colors, emulsifiers, petroleum, silicones, phthalates or parabens and is manufactured with pride in the United States. Try it and find out why "Nothing Beats in Fine Shave"
A Fine story
Mr. Todd Cerami aka "Mr. End" he has always been attracted to the idea that there could be a way to shave less expensive but more effective than the typical mass market approach. When he discovered that, in addition to economic convenience, traditional shaving transformed the whole routine experience into pure pleasure, he was electrocuted.
After numerous experiments with various traditional products, he understood that his favorite part of the experience was the "spray" of the aftershave: wonderful perfumes combined with a toning cooling sensation.
In particular "Mr. Fine "was fascinated by the renowned Austrian aftershave Alt-Innsbruck, a famous aftershave made with only four ingredients but still seemed to have the right amount of everything. Inspired by this apparent simplicity he decided to try to recreate this aftershave on his own.
After several years of attempts, he finally managed to create the right formulation to share with the world. He assumed the nickname "Mr. End ", starting selling Fine Classic After Shave online and ... the rest is history! Almost exclusively by word of mouth, the product has experienced explosive growth.
Much of the success achieved by Fine Classic After Shave could be attributed to the simple fact that, for decades, the traditional shaving product category had been neglected by the major manufacturers. In addition there were many beloved products that could benefit greatly from modernization.
This became the End Accoutrements mission which today provides a complete but expanding range of products for traditional shaving that blend the best of the old with the best of the new to become the best of all time.
So, whether you are an experienced wet shaver or a neophyte, we invite you to try Fine Accoutrements and experience the wonderful world of traditional shaving.
Customers who bought this product also bought: