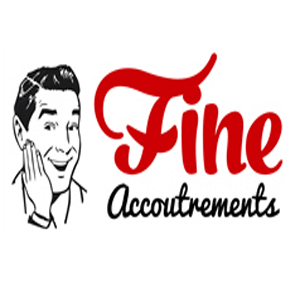 Fine Accoutrements Classic Shaving Soap Santal Absolut 100g
Last items in stock
Tax included
Fine Accoutrements Classic Shaving Soap Santal Absolut 100g
Fine Accoutrements shaving soap is here at long last. The essential complement for the authentic "Fine Shave". A triple-milled formula with a tallow base that makes it a soap to look out for. It creates a long-lasting thick lather that lifts up the hair and favours the gliding of the blade.
It does not contain artificial colours, preservatives, emulsifiers, petroleum or silicones.
Made in Netherlands
Fine Accoutrements Classic Shaving Soap Santal Absolut 100g
Shaving soaps Mr. Fine combine the most popular fragrances of the past with a touch of innovation to always make them fresh and current.
Nine inspired and impeccable fragrances to choose from, skilfully worked to get one Triple Milled hard shaving soap base Tallow that makes every shave one priceless experience thanks to the use rich and full-bodied foam.
The Tallow base (tallow), typical of American soaps, creates one lubricating and protective layer which guarantees the razor a decidedly out-of-the-ordinary smoothness.
SANTAL ABSOLUT perfume:
Santal Absolut is a wraparound sandalwood fragrance, inspired by Sandalwood (2004) by The Art of Shaving. Simple and masculine, but at the same time warm and inviting, this scent captures the eternal charm of the sandal, in all its essence.
A Fine story
Mr. Todd Cerami aka "Mr. End" he has always been attracted to the idea that there could be a way to shave less expensive but more effective than the typical mass market approach. When he discovered that, in addition to economic convenience, traditional shaving transformed the whole routine experience into pure pleasure, he was electrocuted.
After numerous experiments with various traditional products, he understood that his favorite part of the experience was the "spray" of the aftershave: wonderful perfumes combined with a toning cooling sensation.
In particular "Mr. Fine "was fascinated by the renowned Austrian aftershave Alt-Innsbruck, a famous aftershave made with only four ingredients but still seemed to have the right amount of everything. Inspired by this apparent simplicity he decided to try to recreate this aftershave on his own.
After several years of attempts, he finally managed to create the right formulation to share with the world. He assumed the nickname "Mr. End ", starting selling Fine Classic After Shave online and ... the rest is history! Almost exclusively by word of mouth, the product has experienced explosive growth.
Much of the success achieved by Fine Classic After Shave could be attributed to the simple fact that, for decades, the traditional shaving product category had been neglected by the major manufacturers. In addition there were many beloved products that could benefit greatly from modernization.
This became the End Accoutrements mission which today provides a complete but expanding range of products for traditional shaving that blend the best of the old with the best of the new to become the best of all time.
So, whether you are an experienced wet shaver or a neophyte, we invite you to try Fine Accoutrements and experience the wonderful world of traditional shaving.